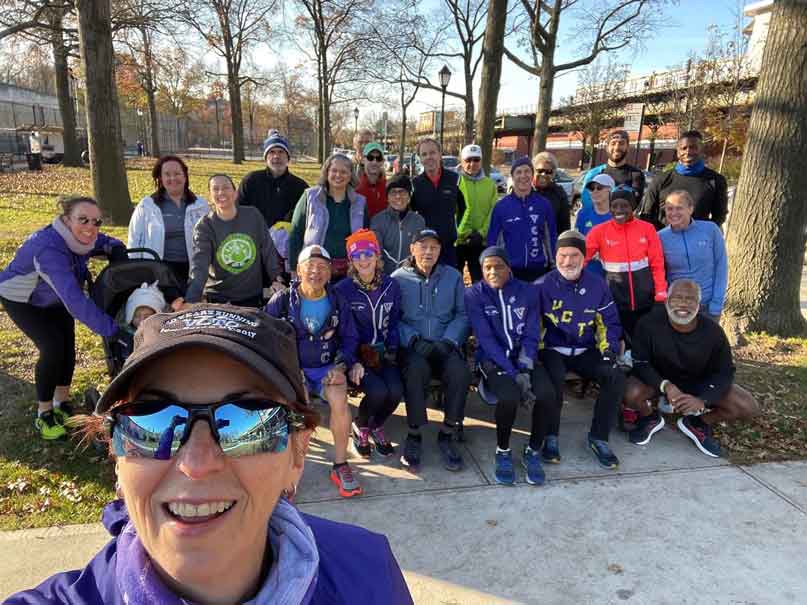 Physical Stuff
Apart from the benefits of this website, social networking, group runs, coached track workouts, tempo runs, an improved social life, increased health and improved mental state, Membership allows you to run in a VCTC racing singlet to represent our team. You will also receive weekly emails from our " Aesop's Bench" Newsletter. It's packed with information on important club updates, workout info, details of upcoming races and events, and other tidbits such as uplifting encouragement and wisdom from our members. We also offer a full range of VCTC team gear for purchase including singlets, jackets, hats, t-shirts, hoodies, patches, socks, etc. – most in our team color: Purple. VCTC Club meetings are generally held the second Saturday each month at 10:30 am inside the stadium by the #1 train station. During the winter months the meetings take place via Zoom. We encourage all VCTC members to attend the monthly meetings and to participate in our committees and social activities. (All schedule changes are communicated to our membership via Facebook and Aesop's Bench.)
New York City Marathon
Without a doubt, the New York signature event is the New York City Marathon. Around 80 VCTC members run the NYC Marathon each year. Through VCTC volunteering to assist the NYRR throughout the year, we earn a few entries to give to some members who were not able to get a place. On race day, we have a bus to take us straight to the start. If you are reasonably quick for your age, through VCTC, you can get into the "local competitive" start, a preferred treatment given by the NYRR for local runners, providing their own warm-up area, food, drink and, crucially, portajohns. These runners are ushered to the very front of the start on the Verrazano Bridge, able to see all the festivities and have a clear run. Mile 20.75 of the course is a key spot for VCTC on race day; located in our home borough, the Bronx, it comes at the proverbial 'wall' of the marathon. Those not running turn out to cheer, and those running often find it as motivation while running, to reach the VCTC cheer zone and see their teammates smiling faces (then it's on to the finish line). The camaraderie doesn't end there. It's become a tradition to meet afterward at the Bronx Ale House, for food, drink and proper play-by-play re-telling of the day's race, ranging from the joys of victory to the agonies of "de feet".
Awards Event
The Club holds an Awards Event to honor those in every age group who have run well over the previous year, with overall awards to the VCTC Runners of the Year.
Summer Series Party
In August, following the last Summer Series Cross-Country race, members gather for pizza and beer and an overall good time reminiscing about the series highlights. Awards are distributed to overall male and female winners as well as age group winners all of whom receive delicious treats from Lloyds Carrot Cake.
Fantastic Trips
From time to time, a group of members will plan a trip to an out of town race experience. Past trips have included the Boston Marathon, a long distance relay starting from New Hampshire, Craftsbury Outdoor Center in Vermont, Puerto Rico, Key West and more. VCTC members are an adventurous team!
Club Racing
Of course, being in VCTC you can compete in the NYRR races with the added interest of scoring for the club year round. VCTC is not sponsored by running companies and few runners let running control their lives but that doesn't stop us from competing with some of the best runners and teams in the region, and sometimes beating them too! In 2021, our women's 60+ team was first among all NYRR 60s teams and our men's 70+ team also placed among the top 3 out of all NYRR 70s teams. In 2022, 6 members of our team were nominated for runners of the year by NYRR. VCTC is represented across a wide range of age groups from Kids Club to Open (under 40) all the way through 70s+. The NYRR club points races traditionally start with the Washington Heights 5k in March and end with the Ted Corbitt 15k in Central Park in December.
Refueling
On Saturdays after the group run, many members meet up to socialize on the stadium steps with breakfast items from a local deli.  A few of our favorite local afternoon and evening watering holes are the Bronx Ale House, Kingsbridge Social Club and the Tortoise and Hare.
Social Outings
Our members organize events throughout the year, past events have included golfing, hiking at Bear Mt., an Orchard Beach run and Yankees games. Recently our events have expanded to a Captain Lawrence Brewery Run/Ride. Two of our most popular events are our Santa Run in December (holiday costumes a must!) and our Summer Beer Run in June. Clearly VCTC members like to run with a purpose. 🙂
Discounts
If that was not enough, VCTC Members get a 25% membership discount at the Riverdale YMHA. If you sign up at the Y, be sure to tell them who referred you and they get a free month's credit as well.  We also get a 10% discount at Urban Athletics, and at the Westchester Road Runner store in White Plains.
Our Races
Finally, the races we organize. In April, we host the "UEC" Urban Environmental Challenge 10k XC trail race in Van Cortlandt park. We've added some new races to our calendar, including the Tough Love Valentine's 2 x 2M relay in February and the Flats Mile in June. Last but by no means least, we put on the VCTC Summer Series 5k (and one 2 x 2M relay) XC on 7 alternate Thursdays throughout the summer. Members are always encouraged to volunteer at our races if they are not running.