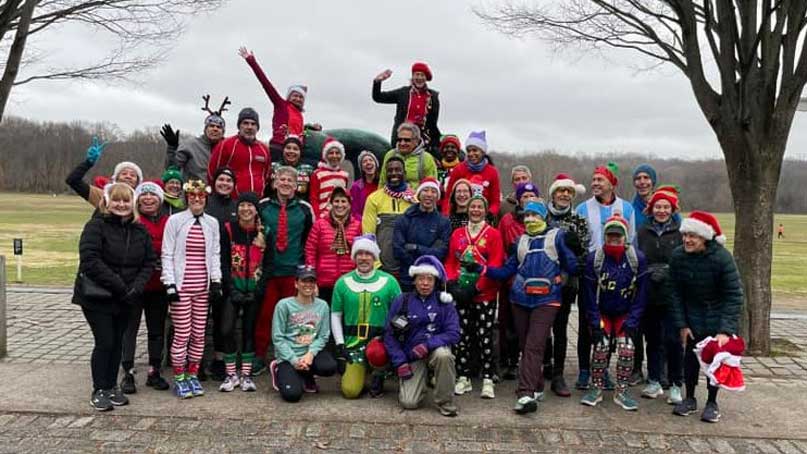 The club meets to run on Monday, Tuesday, Thursday and Saturday. There is also a walking group on Sunday. Below is detailed information about our workouts. If you are new to the club or thinking about joining us, and want to confirm a particular workout or meeting location, send an email to info@vctc.org or check us out on Facebook.
Always be sure to check Facebook for changes during inclement weather.
Monday Night Fun Run
On Monday nights at 7pm, we meet for a Fun Run. This is a perfect opportunity for new runners to meet their fellow teammates. Participants have both a running and/or walking option. No one is left behind and it's a great chance to socialize. Meet at the 'Tortoise and Hare' statue, on Broadway, across from Lloyds Carrot Cake, a 5 minute walk north of the 242nd St #1 train station. Ask for Rick. FUNRUNS WILL RESUME ON MONDAY MARCH 20TH!
Tuesday Night Speed Workout
Each Tuesday night at 7:00 pm we meet for our club speed workout. Check our Facebook page for any changes or cancellations. Most of the year, the meeting location is at the Van Cortlandt Park stadium track on Broadway. In the summer time (late May through mid August), we run in the Van Cortlandt Park 'back hills'. The meeting location for these workouts is found by following the trail at the northeast tip of the parade grounds loop up the hill to the bridge that goes over the Henry Hudson Parkway. Ask for Coach Ken or Coach Glen. BEGINNING TUESDAY MARCH 7TH, THE WORKOUTS WILL RETURN TO THE VCP STADIUM.
Thursday Night Tempo
Thursday Nights we meet at 7pm at the 'Tortoise and Hare' statue on Broadway. Tempo runs are a key ingredient for improving race times. The workout is typically 2 or 3 timed intervals. Everyone starts at the same time and runs their own pace. A horn blows halfway through the interval, and everyone turns around and returns to the start – ideally returning at the same pace as heading out. Anyone who runs a consistent pace throughout, will reach the start/finish at precisely the end of the timed interval. Ask for Rick.
Saturday Morning Group Run
Come and join us for a great morning at our Saturday group run. This is a VCTC tradition. Find us by the handball courts at W241st and Broadway just south of the train station. Meeting time is 8am, departure time is 8:15am. Members break up into informal running groups based on individual paces, distances and goals for the day. The run begins with a loop of the Parade Grounds, then members peel off into smaller groups for either the trails, the Putnam Trail or a continuation of the flats. After the runs, members often meet back at the stadium to socialize and have some breakfast.
Sunday Willie's Walkers
Come join Willie and VCTC teammates for a 4-6 mile walk. Its a great way to recover from a long run or just enjoy a walk with friends. The group meets at 8am at the Van Cortlandt Golf House on Sunday mornings. The group walks on both flat and hilly terrain so proper footwear is essential. The conversation is always lively and Willie keeps us moving. Be prepared for a workout!