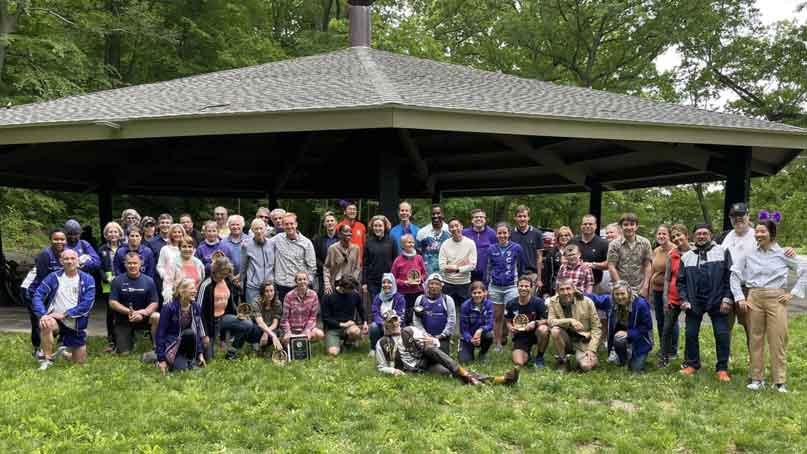 How do I contact you?
By emailing info@vctc.org, or by snail mail at PO Box 248, Bronx, NY 10471
I'm not fast. Can I run with you?
Absolutely! We welcome all runners and have members who run a wide range of paces. Please join us for one of our weekly workouts to check us out.
I'm slow. Can I run with you?
Yes! We have several options for weekly workouts. Many of our workouts include walking and running/walking groups. You are sure to meet someone just your speed.
I'm fast. Can I run with you?
Yes! We welcome the tortoises and the hares! We are a competitive team for those members who are interested. Our coaches can help you tailor your workouts to improve strength and endurance.
When and where can I meet you?
We meet in and around Van Cortlandt Park in the Bronx, near the last stop of the #1 train (242nd and Broadway). We meet Tuesdays and Thursdays at 7pm and Saturdays at 8am. Additionally, we have a Monday evening FunRun from Spring through Fall that includes both a walking and running group, meeting time is 7pm. On Sundays, team members meet at 8 am by the Van Cortlandt golf house for a brisk 4-6 mile walk.
Find location info and more detail on our workouts page.
Where do you run?
Mostly we run in and around our beloved Van Cortlandt Park:
the track, for Tuesday speed workouts;
the 1.45 mile 'flats loop', also known as 'the parade ground', for Thursday tempo runs and Monday Fun Runs;
the cross country course 'back hills', and the Putnam and Old Croton Aqueduct (OCA) trails are some of the options on our Saturday long runs
on Tuesday's in the summer, we do 'back hills' workouts
In the winter time, we move our weekday workouts to the hilly streets of the nearby Fieldston and Riverdale neighborhoods.
When there's snow on the ground in the park, we get our Saturday miles in the hilly streets of Riverdale (one popular route follows an old race route, the Riverdale Ramble, and incorporates Palisades Avenue) or in nearby Tibbetts Brook Park (whose paved almost 2 mile path gets plowed after snow falls).
What are the benefits of membership?
A key benefit of membership is getting to meet a group of like-minded people who can help you meet your running goals and offer guidance and encouragement. Numerous other benefits include buses to big events like the NYC Marathon and Brooklyn Half and social events throughout the year.
See here for a detailed list of membership benefits!
How do I become a member?
Feel free to join us for a workout to get a feel for the club and see how well the club fits with your schedule and goals.
To become a member, click here.
How did the Van Cortlandt Track Club start?
The club was founded in 1977 when a small group of runners regularly met for runs around Jerome Park Reservoir in the Bronx. They kept meeting, kept running, moved their focal point a bit north to Van Cortlandt Park and over 45 years later are still running.
VCTC has grown into one of the oldest and most prominent running clubs in New York City, drawing members from around the city and beyond.
What is VCTC's mission?
VCTC is a Bronx-based running club promoting and fostering a welcoming and supportive community for recreational and competitive runners of all levels of experience, ability, and goals.
What are Club Points?
New York Road Runner (NYRR) designates 9 to 11 races in a year as "club points races", in which the lowest combined times of a team are tallied. The times of the first (5) runners of the open team and first (3) runners of age groups (age 40+) are added.
NYRR's expressed purpose is to "foster healthy competition among New York area clubs, encourage excellence in running, and help boost New York Road Runner (NYRR) race participation and spectator interest".
There are 9 to 11 "Club Points" races (it varies from year to year); the two lowest scoring races get dropped from the year's end tally. The year's points season usually kicks off with the Washington Heights 5k in March and ends with Ted Corbitt 15k in December.
These points races tend to draw a large team turnout, both for running and for cheering each other on. Make note that your time cannot hurt the team, so do not feel that you are too slow to run for the team. Participation is encouraged. More info from VCTC and from NYRR.
If I'm a slow runner can I run in races as VCTC?
Yes, please do! We encourage participation and there is no time or pace requirement to run under the VCTC team name.
Who's in the club?
The club has approximately 300 members, mostly from the Bronx and the surrounding areas of upper Manhattan (Inwood and Washington Heights) and Westchester. And our membership extends to other boroughs and the metro area.
Some of our members have moved away but retain ties to the club and make it to races and/or club events. Some have moved further away and visit when in town.
Do you put on races?
Yes we do! The Van Cortlandt Track Club puts on a 5k cross-country summer series that begins in late May and runs every other Thursday at 7pm until mid-August. The series consists of six 5k races plus a 2 x 2 Mile relay race that's held on the Thursday near July 4th. Find race info and sign up on our race page.
Additionally, we run the Urban Environmental Challenge (UEC) 10k trail race. This is an off the beaten path trail race on lesser traveled routes of the park; it's usually held in early April. We've had other races over the years, such as the Tough Love 2 x 2 Mile Valentine's relay race in February and Flats Mile in June, so check our race calendar for events.
We have sweet prizes at our races too. Literally. Many of our races feature carrot cakes and carrot cake muffins (from the delicious Lloyd's Carrot Cake located across the street from the race finish line (Address: 6087 Broadway; Bronx NY 10471) which are given to overall and age group winners.
What's the team color?
Purple
What's the team logo?
The Tortoise and the Hare